The Inns of Sanibel are committed to following the CDC guidelines regarding COVID-19, and as we continue to see key local and state indicators move in a positive direction, we have updated our face mask policy for both our staff and guests at the Inns.  Effective immediately:
THE USE OF FACE MASKS IS OPTIONAL, BUT RECOMMENDED, FOR ALL GUESTS.
The health and safety of our guests, staff and island residents will always be our highest priority.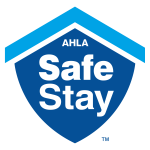 The Inns of Sanibel are proud to join @AHLA's #SafeStay initiative by enhancing hotel cleaning practices and workplace protocols to help guests and employees feel confident during post-pandemic travel visit: https://www.ahla.com/safestay for details. Additionally we have implemented the following procedures for staff and guests to create the safest environment possible: 
The use of face masks is optional for all guests.
The use of face masks is optional for all fully vaccinated hotel staff. Staff who are not fully vaccinated must continue wearing a mask in hotel lobbies, while in a room with a guest, or if unable to maintain a 6′ distance from others, indoors or outdoors.
Physical Distancing: guests are advised to practice physical distancing by standing at least six feet away from people not traveling with them while standing in lines, using elevators or moving around the property.
Beach and pool chairs, bar and restaurant seating, and other physical layouts: have been modified to protect our guests and our staff which may result in limited capacity and/or longer waits during busier times.
Check-in: the check in process has been modified to eliminate unnecessary contact.
Housekeeping: staff will not work in a room with guests present and will follow strict Stay Safe guidelines. Enhanced cleaning in guest rooms and public areas. We have implemented industry best practices in our cleaning procedures while reducing the harsh chemical footprint. We are frequently cleaning all high-touch items in public areas and recreation equipment, reducing decorative bedding items, offering alternatives to full cleanings during your stay.
Restaurants: Employees in dining areas will wear face masks regardless of vaccination status for your safety and be screened with temporal thermometers prior to each shift. Dining outlets will comply with all federal and state requirements.
Temperature Checks: our staff will have their temperatures taken daily using a temporal thermometer as an additional precautionary measure.
Well-being: staff are reminded to stay home if they feel ill, report co-workers or guests who appear ill to management, wash their hands frequently, not touch their faces and to practice physical distancing. All resort departments/outlets will comply with, or exceed, local or state mandated occupancy limits.
Hand Sanitizer: dispensers will be located at key guest and employee entrances and contact areas.
Signage: Health and hygiene reminders throughout the property including the importance of physical distancing, the proper way to wash hands, sneeze, avoid touching one's face, and wear, handle and dispose of masks. "Back of the House" employee signage is posted throughout the property reminding employees of the proper way to wear, handle and dispose of masks, use gloves (in positions deemed appropriate by medical experts), wash hands, sneeze and to avoid touching one's face. The AHLA's SafeStay summary is also posted in all back of the house areas.
Employee Training: All employees have received training on COVID-19 safety and sanitation protocols and signed off on their understanding and compliance, with more comprehensive training for our teams with frequent guest contact including Guest Services, Housekeeping, Food & Beverage, and Public Areas/Custodial. All employees have also been trained and officially certified by AHLA's SafeStay program to further ensure their knowledge and compliance with the latest safety protocols.
For future reservations, please call 866-717-2323 or book online at theinnsofsanibel.com
We continue to keep all those impacted by the coronavirus in our thoughts and look forward to seeing you in our corner of paradise soon. 
Be well, 
The Inns of Sanibel