Beaches
Explore the sugary white sands of the Gulf of Mexico with the exclusive private beach access available to you at our unique hotels: Sanibel Inn; Song of the Sea; Seaside Inn and Sunset Beach Inn. Steps from your room, you will discover the many colorful shells that wash up along the shores as you dip your toes in its refreshing waters. For those seeking to learn more about our pristine environment, reserve your place in our complimentary Nature Tours, led by our very own Florida Master Naturalists.
Sanibel offers an array of stunning Public Beaches that range from the pristine and quiet Bowman's Beach, to the shell-strewn Blind Pass Beach, to the historic Lighthouse Beach Park and Fishing Pier.
While on our stunning beaches, let our team of professional picnic planners make your next seaside outing one-of-a-kind. Experience dinner with a view and toast the sunset in grande style. Book a picnic in the great outdoors … we have the best seat on earth!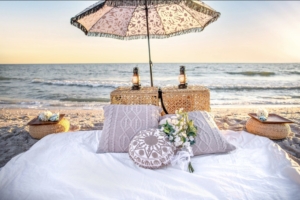 Testimonials
"Song of the Sea is my precious sanctuary island ONLY choice since 2001 when your Chamber of Commerce matched me with Song! I THANK ALL OF YOU as you navigate with such fortitude, each step in the rebuilding. Viewing occasional videos of post Ian updates clearly demonstrates how you are EXTRAORDINARY STEWARDS of Song and Sanibel Island. We (your loyal guests) support, cheer for you, and enthusiastically anticipate/appreciate when you can welcome us back!!"
"Thanks for the updates! We've stayed many many times at Seaside Inn, and can't wait to see what you have planned for that property."
"I wanted to share how much my family of 4 enjoyed the Seaside Inn. We loved the quaint, quiet, active, and simple cottage style resort you had. Our daughter has food allergies so having a stocked kitchen is a must for us. We also loved having the grilling option available here. We hope to see it return to its simplicity. The beauty is in the beaches and island and being available to have the activities such as biking, kayaking, and paddle boarding. We have loved every time we have come here and are hoping to return when rebuilt."
"We have such fond memories of lovely Sanibel. We stayed at Sanibel Inn 29 June to 3 July this year and the staff and our room was perfect. We visited from Ireland and have been traveling to Sanibel occasionally since the early 80s Our daughter learned to swim at the Sanibel Inn during one of our visits there when she was 4 or 5. I love that it hasn't changed that much over time. We hope to be back there again in the not to distant future. All the best. "
"My husband and I are so devastated by what Sanibel, Captiva, Fort Myers and the rest of the wonderful cities have endured. The Lighthouse shows the strength of this island by still standing despite one leg missing. We look forward to being at the Sanibel Inn again. Please keep us posted. You all have our prayers and support. "
"Our hearts go out to all of you and prayers that you will soon be able to restore your resort to its beautiful status. We were guests in April of 2022 and can't stop talking about how wonderful our experience was, for the entire family! Our hope is that everything will be restored and you can continue to provide an exceptional and memorable experience for families like ours. Take care, God speed, and many thoughts and prayers are with you at this time."
"For more than 20 years I have been vacationing in Paradise - Sanibel Island. For my grandchildren (now adults) it is one of most memorable things in their lives. Sunset Beach and Song of the Sea are our home, and for sure will be in the future. Best of luck and waiting for your rebuilt. Please, keep the charming and historical traditions of the sites."
"I was so sorry to hear of the devastation left by Hurricane Ian. It is good to hear that Sanibel is being rebuilt. Sanibel Island is such a special place to me. It is a place that I spent time with my parents before they passed on many occasions. They just loved it there. As well as the island being so beautiful the staff at the Sanibel Inn were always fantastic and it made our stay even more enjoyable. I wanted to wish you and your employees all the best in rebuilding your properties. I hope to return to Sanibel Island in 2024 and look forward to staying at the Sanibel Inn again "
"My husband and I have been praying for your island residents and staff to heal soon from the devastation all of you have endured. We are looking forward to celebrate our 54th anniversary at Sanibel Inn next December as we have done in years past. Our regards and the best to you and your staff. "
"Wow! What you have been thru! We really appreciate you staying in touch with us. We were headed your way this winter. We will look forward to being there next winter. We have so many happy memories and family stories from our times at Song of the Sea! We are sending you all best wishes for a happy, healthy, peaceful holiday season. "